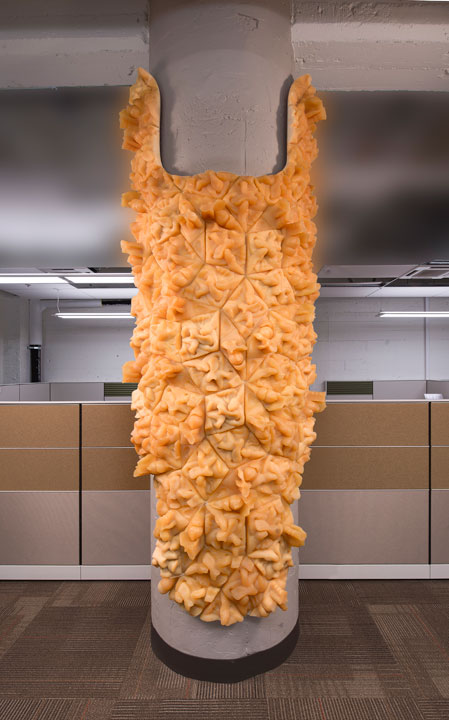 BROODWORK (a collaboration between Rebecca Niederlander and Iris Anna Regn)

BROODWORK: Mending , 2015

cast polyurathane, acrylic, steel, fiberglass

Bas Relief Sculpture: ±8'-6" x ±40" x ±5"

Diptych Sculpture: 2'-1"x 6', 2'-1"x8'

Permanent collection of the Los Angeles County Arts Commission

The multi-element artwork, BROODWORK: Mending, is comprised of a long two-part plexiglass sculpture on the reception wall and a tall bas-relief sculpture on the column behind the reception desk.

BROODWORK: Mending is inspired by the bond between staff and visitors to honor the way they exist together as a significant and supportive Family. Family is a metaphor for an intimate group of people that are trusted and reliable who act as an intermediary between the individual and the community at large. Touchstones are the building blocks of this site-specific artwork. For many cultures, Touchstones are small handheld tools- transitional objects- that exist to provide comfort through repetitive tactile interaction with a smooth indentation.

In the plexiglass diptych sculpture on the wall, twelve Touchstones are handcrafted precious objects presented as you would hold them in your own hand. In the making of each Touchstone, a different hand was used as a model for size and shape.

In Reception, you see the same touchstones, now as a collective bas-relief sculpture that forms a cohesive whole. The touchstones come together in the non repeating pattern of the mathematical Penrose tile much like a staff facilitates individuals to form community in varied and open ended ways. This sculpture is located on a substantial column that supports the space much like a staff supports their clients. And like the relationship of this Family, these works are connected in in long-standing dialog with each other. The pattern is as infinite as each of indiviidual's stories. There is a place for everyone in this community.

The sculpture is also tactile acknowledgement of the staff's profound dedication to serve their community-direct interaction with individual parts of sculpture is a daily reminder that staff actions add up to a significant whole.